Commercial Real Estate Broker Lien
Commercial Real Estate Broker (Realtor) Lien Act
Realtors bring together  buyers and  sellers of real estate.  For this service, the seller normally pays a commission to the realtor.  At the closing of this transaction, the realtor then receives a big check.
As with most things in life, sometimes things go awry.  Some transactions the owner doesn't believe the realtor deserves a commission and did nothing to facilitate the sale of the property.
Under the law, to earn a commission a realtor must establish that he or she was the procuring agent for the transaction.  The realtor must established that through the realtor's efforts a willing buyer was going to purchase the property on the seller's stipulated terms.  The realtor must demonstrate that the sale was the proximate result of the realtor's efforts.
Occasionally this is disputed with the owner feeling that the broker did nothing to bring the buyer to the property.
To protect the realtor–but only in commercial real estate transactions– Illinois allows a realtor to place a lien on real estate where the realtor believes the owners owes the realtor on the transaction.  This applies both to a sale and lease of commercial property.
A broker can file a statutory lien upon commercial real estate in the amount due the broker only if these five elements are meet: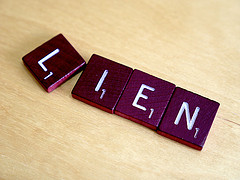 (1)   the broker has a written instrument signed by the owner;
(2)   under this written instrument the broker was entitled to a fee from the owner;
(3)   that this lien is recorded in the county where the property is located;
(4)   this lien is mailed to the owner within 10 days of recording or the property must close within 10 days of recording;
(5)   and suit is commenced within 2 years of recording this lien.  See Illinois Commercial Real Estate Broker Lien Act.  
In any litigation regarding this statute, the prevailing party shall be awarded its reasonable attorneys' fees, costs, and prejudgment interest from the other.
The statute defines commercial real estate basically as real estate with structures that are commercial in nature such as apartment buildings having more than 6 residential units, industrial property, office buildings.
In order to prevail, the realtor must prove all five elements.  If any of these elements are not established then the lien fails.
Before the closing of the transaction,  the title company will find this lien recorded with the records of the recorder of deeds.   This will prevent conveying clean title to the buyer.  So normally the seller will need to resolve this lien with the broker or put substantial money in escrow and litigate this dispute before a judge to see if any commission is owed.
I had one case where the realtor failed to mail the notice to the landowner after the lien was recorded.  This invalidated the lien.
Keil Larson